Latest Cronus Zen Mouse&Keyboard Converter for PS5/Xbox One/S/X/XBOX 360/PS4/Nintendo Switch
uni-010096
THE WORLD'S BEST GAME CONTROLLER CONVERTER!
Cronus Zen is the engine that helps connect your favorite controller to whichever console you like , add scripts, mods and macros for your favorite games, play with pre-configured drag-and-drop MODs with no skill level required, remap your buttons, sticks & sensors to whichever custom layout you prefer, connect a Mouse & Keyboard to any console with lag-free precision, convert your expensive XB360/PS3 Logitech or Fanatec racing wheel to work on a PlayStation 4 with Force Feedback, Pedals & Gear Shifter support, or play with a new, insanely fast Tournament Edition mode - a technology now used by all teams in the Call of Duty® World League
GAMING WITHOUT LIMITS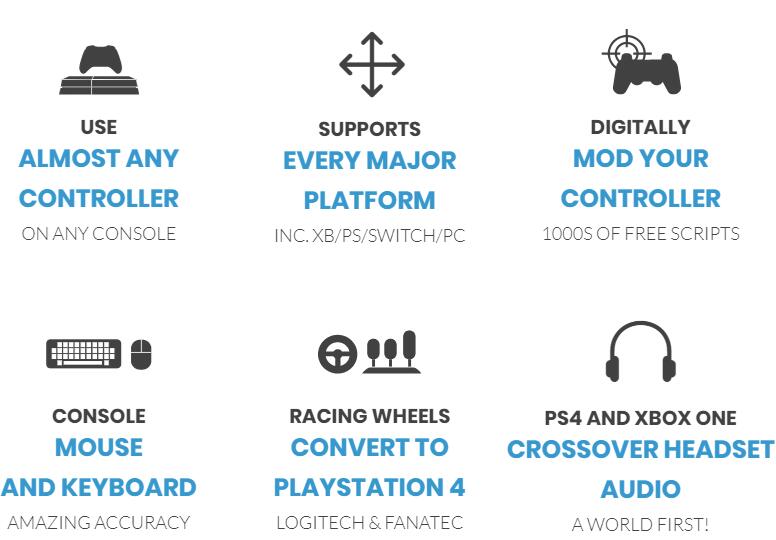 Cronus Zen is a breakthrough device founded on the rich legacy of CronusMAX devices and recognized as
the definitive
controller adapter. Zen moves that legacy forward, giving the gamer the most powerful platform on the market, allowing unparalleled keyboard and mouse precision, combined with unsurpassed MOD scripting capability of combos and macros with the new Zen Studio software.

Supported Gaming Platforms:
Xbox One , Xbox One S, Xbox One S All-Digital Edition, Xbox One X, PlayStation 4, PlayStation 4 Slim, PlayStation 4 Pro, Xbox 360, Xbox 360 S, Xbox 360 E, Xbox 360 Pro/Premium, Xbox 360 Elite, PlayStation 3, PlayStation 3 Slim, PlayStation 3 Super Slim, Nintendo Switch, Windows PC

Supported Official Controllers:
Xbox One  1537 (USB / Wireless Adapter)
Xbox One  1697 (USB / Wireless Adapter)
Xbox One S 1708 (USB / Wireless Adapter / Bluetooth)
Xbox One Elite 1698 (USB / Wireless Adapter)
Xbox One Elite S2 (USB / Wireless Adapter / Bluetooth)
PS4 DualShock 4 (CUH-ZCT1) (USB / Bluetooth)
PS4 DualShock 4 (CUH-ZCT2) (USB / Bluetooth)
PS3 DualShock 3 (All Models) (USB / Bluetooth)
Nintendo Switch Joy-Con (Bluetooth)
Nintendo Switch Pro (Bluetooth)
Nintendo Wii U Pro (Bluetooth)
Nintendo Wii Mote + Nunchuck (Bluetooth)
Support PS5 Controller Now!! Need update firmware

IMPORTANT!!!!
PlayStation 4 & Xbox One consoles require an officially licensed controller with the supplied micro-USB cable to fully authenticate the Cronus Zen to your console. This is called 'Auth Controller' which connects to Zen's A1 USB Port. This provides support for Headsets Audio, DS4 Speaker and more.
Note¹: Only wired DUALSHOCK 4 model CUH-ZCT2 can support headset audio & DS4 speaker.
Note²: Xbox One Wireless adapters are sold separately in our store.

Xbox 360 consoles require an officially licensed wired Xbox 360 controller to authenticate the Zen to the Xbox 360. It must be connected at all times.
Note: Play and Charge Kits are not compatible. The Xbox 360 controller has to be hard-wired.

Crossover Controller Support

Cronus Zen allows the use of your favorite gaming controller on all major gaming platforms, including all versions of PlayStation 4, Xbox One, Nintendo Switch, PlayStation 3 and Xbox 360. There is additional support for Windows PC and it's also possible to connect to devices such as Android and Raspberry Pi.
Zen also empowers the gamer with the ability to mix and match different devices to give you freedom over your play style. Analog stick control support is also included for player movement combined with the high fidelity of a gaming mouse, as well as support for using a controller alongside a keypad - where each and every key can be programmed with any number of scripts or MODS at the touch of a button.






Mouse & Keyboard




Get the edge in FPS games with advanced 1:1 controller to mouse conversion with no lag. Cronus Zen provides the highest speed and aiming accuracy possible for console shooters with precision Mouse & Keyboard optimization for the biggest FPS games, like Fortnite, Apex Legends, Call of Duty, Battlefield and many more! The Cronus Zen detects as a controller, so no segmented lobbies - compete head to head directly with other controller users.


Mods, Scripts & Macros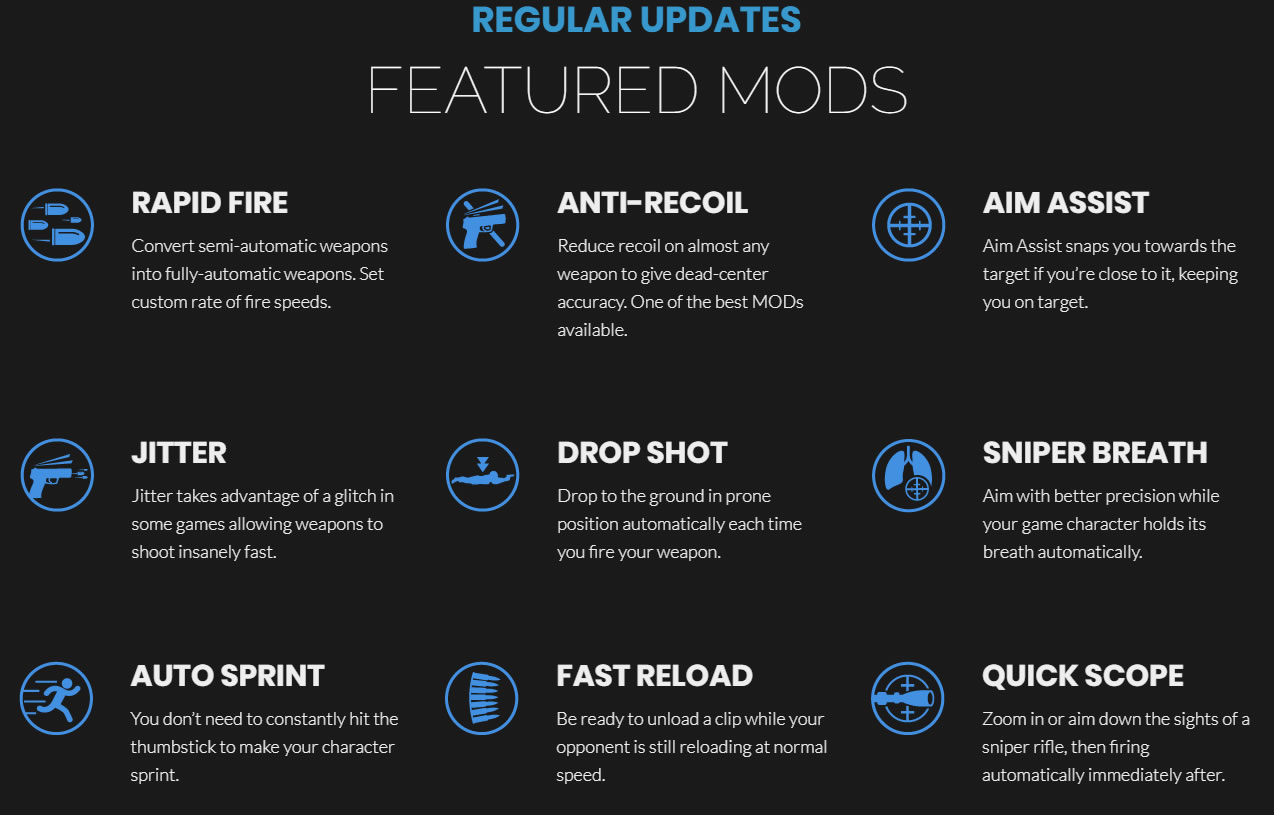 Unlock the full potential of your controller with our powerful GPC scripting language, which gives both beginners and advanced users the ability to run millions of possible MOD combinations on a controller without special chips or soldering. Originally built with the award winning CronusMAX PLUS, the GPC library contains thousands of free, ready to use scripts for the very latest games - updated daily by the 120,000+ strong Cronus Community.

GamePacks




Pre-Configured GamePacks are created by expert gamers in the Cronus Community, who spend hundreds of hours playing the most recent titles, unlocking the most choice MODS and exploits, which are then engineered specifically for each game.

Racing Wheel Support




Breathe new life into your old racing wheel with Cronus Zen, now supporting Logitech Driving Force GT, Logitech G25 and Logitech G27 wheels, plus many Fanatec wheels, fully functional on a PS4 console, including full force feedback, pedals and shifter support.

Zen Studio Software




Zen Studio software for Windows is the heart of Cronus Zen. It provides easy access to the most advanced MODS, Scripts and Macros. Download directly from the GPC Library, or a pre-configured GamePack, created by expert gamers in the Cronus Community. Zen Studio also has many incredible plugin features such as M&K Settings (setup and configure your Mouse & Keyboard), MAX Combo (record your controller inputs directly to GPC script ), and MAX Mapper (easily remap any buttons, analog sticks or sensors, as well as sensitivity adjustments for any button and advanced sensitivity adjustments for analog sticks).
 
Integrated Bluetooth



Pair any compatible wireless bluetooth controller directly to the Cronus Zen in seconds without the need for expensive add-ons or third party usb bluetooth adapters. Cronus Zen also supports the Xbox One Wireless Adapter and Xbox 360 Wireless Receiver (sold separately).

Headset Support


Connect a gaming headset directly to your controller with Cronus Zen. Includes full support for in-game audio and party chat. If your controller is unable to support audio (such as bluetooth controllers), we have included a special feature where it can connect to a wired pass-through controller that does support audio, so no matter your configuration, there is a solution.
 
All Xbox One controllers that use the Xbox One Wireless Adapter, and the Astro C40 PS4 Wireless Controller fully support headset audio without requiring a wired pass-through controller!

Nintendo Switch Support




The full power of Cronus Zen is now available on the Nintendo Switch. This includes all supported controllers, mouse & keyboard, and the full weight of the powerful GPC scripting engine, giving access to the latest MODS, scripts and Macros for games like Pokemon, Super Smash Bros and Mario kart.

OLED Message Screen




The Cronus Zen OLED screen brings MODS into the 21st century. View detailed information about scripts and GamePacks, navigate menu systems built using new open-source commands with the GPC scripting language, giving you the ability to fine-tune your MODS and GamePacks with ease. Spend less time setting up and more time gaming.

Bigger Memory




Cronus Zen has eight massive 32k memory slots to store your MODS, Scripts & Macros. To give you an idea how big that is, the average size GamePack for the award winning CronusMAX PLUS was 4k, and that included at least 10 really powerful MODS with multiple configuration options.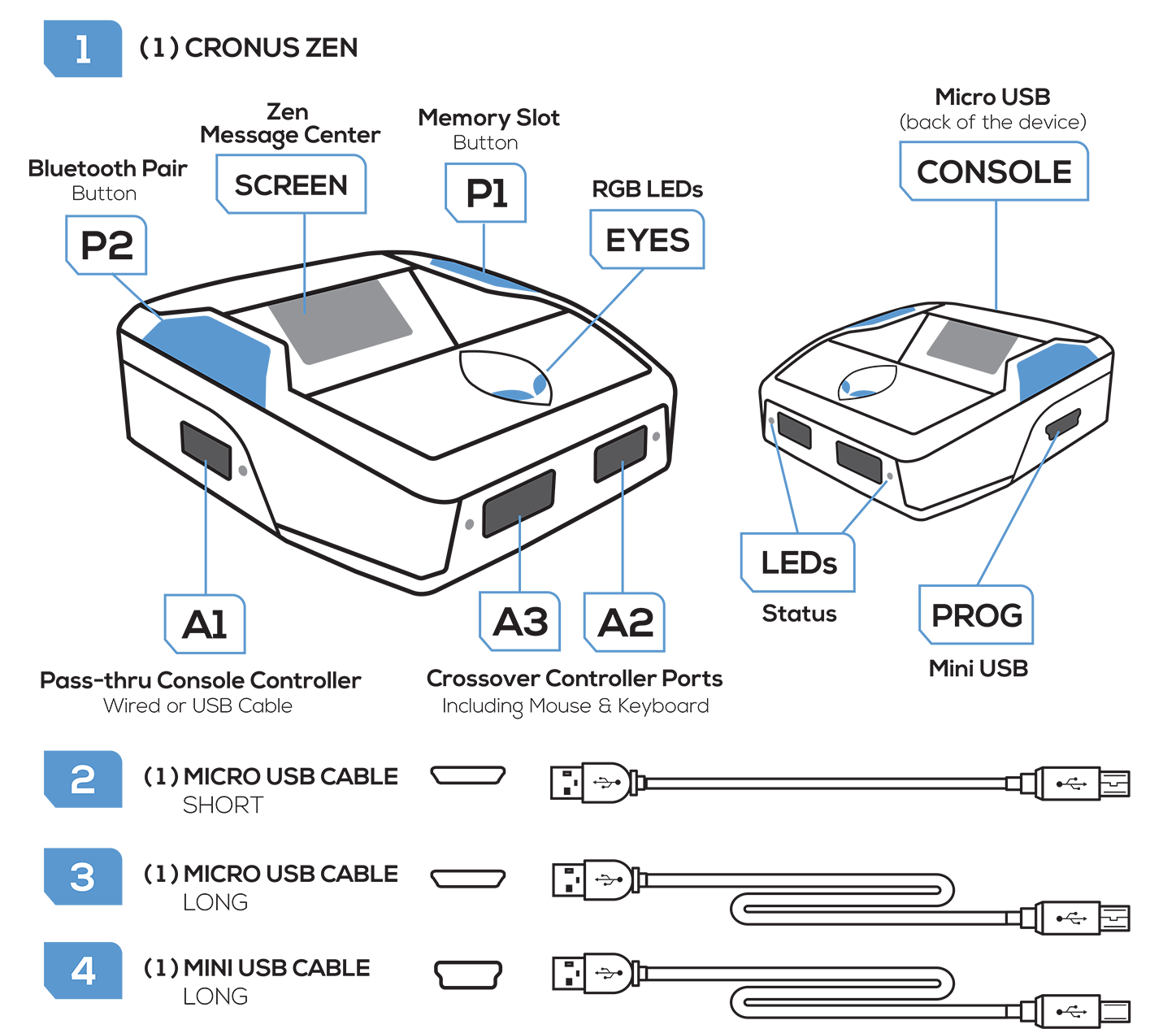 Package includes:
1 x Cronus Zen
1 x Short Micro USB Cable
1 x Long Micro USB Cable
1 x Long Mini USB Cable

---
We Also Recommend